Date/Time
Date(s) - 09/26/2022
6:30 pm - 8:30 pm
Location
East Campus Auditorium
Categories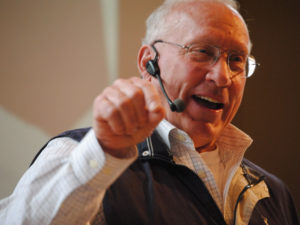 The topic of the spiritual realm often raises a lot of questions. Come find some answers at our next School of Christian Thought event!
Join us on the evening of Monday, September 26, as best-selling author and minister, Neil T. Anderson, guides us in better understanding how to live life from the perspective of God — the "maker of all things visible and invisible."
EVENT SCHEDULE
6:30 — Worship
7:00 — Lesson
8:00 — Q&A with David Young
FAQs
Due to the academic content of Neil Anderson's material, we do not recommend this event for elementary age children or younger.
► Will there be childcare?
Childcare will not be provided at the church building for this event.
► Will this event be live-streamed or recorded?
Yes it will. You can join the livestream on the church website at North Boulevard Church of Christ and to learn more go to northboulevard.com/events
ABOUT NEIL ANDERSON
Neil T. Anderson was raised on a farm in Minnesota. He served in the Navy and worked as an aerospace engineer before being called to full-time ministry, and over the years he has served as a high school campus minister and in the local church as a youth, college, associate, and senior minister. Neil also taught for 10 years at Talbot School of Theology and was the chairman of the Practical Theology Department.
In 1989, Neil founded Freedom in Christ Ministries, which now has offices and representatives in 40 countries. Serving as the President Emeritus, he conducts conferences for Christian leaders around the world in addition to teaching Doctor of Ministry classes and maintaining a heavy writing schedule. As a result, he has authored and co-authored many books including best-selling book The Bondage Breaker.