Date/Time
Date(s) - 09/15/2022
All Day
Categories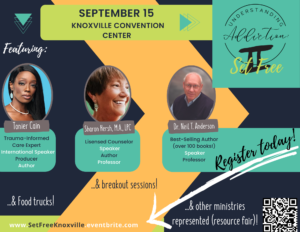 You are invited to Renew Clinic's 2nd Annual Conference
Understanding Addiction: SET FREE

In Knox County, there was nearly a 50% increase in overdose deaths from previous years between 2020-2021. Nearly 79,000 people ages 18-45 years old died of a fentanyl overdose in the US. Fentanyl overdose is now the #1 cause of death for these adults.

This September, we are hosting our 2nd annual addiction conference at the Knoxville Convention Center to bring a message of hope to those struggling with addiction and those affected by it. This conference will also be an educational opportunity for pastors, addiction professionals, DCS employees, probation/parole employees, church members, family members, and those seeking to understand the phenomena of addiction.

We will have some incredible speakers coming into town from all over the nation to share their expertise in the areas of addiction, trauma, and a biblical perspective of human behavior.

Some of our speakers include: Dr. Neil T. Anderson (Best-Selling Author and Professor), Tonier Cain (Internationally Renowned Speaker and Trauma-Informed Care Expert), Sharon Hersh (Speaker, Author, Counselor), and Dr. Jim Coffield (Psychologist and Pastor).

We will also have breakout sessions, which include:
Dr. Jim Coffield: The Intersection between Theology and Psychology
Sharon Hersh, M.A., LPC: Where's My Promised Land? Loving an Addict
Dr. Neil Anderson: The Bondage Breaker
We will also have food trucks and a resource fair, where several ministries and agencies will be available for you to get involved with.
All proceeds of this conference will go towards a scholarship fund for individuals who cannot pay for treatment but desperately need it.  To register or for more information, please go to www.SetFreeKnoxville.eventbrite.com
We hope to see you there!